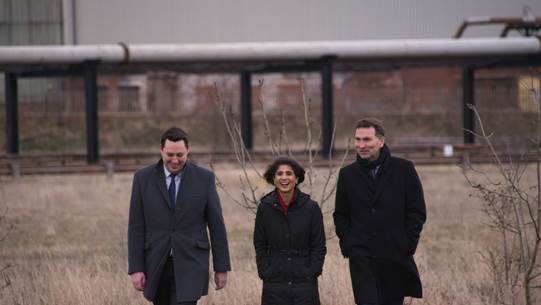 Mayor Ben Houchen has today (30 June) called for local people to give feedback on the region's ambitious Net Zero Teesside (NZT) project as the second consultation launches to develop Tees Valley as the UK's first zero-carbon industrial cluster.
This major initiative, by five of the world's largest oil companies, aims to lead the way in decarbonising the UK's economy by using Carbon Capture, Utilisation and Storage (CCUS). The scheme could capture and store up to ten million tonnes of CO2 each year which is the equivalent to the annual energy use of more than three million homes. The process removes CO2 from heavy industry and power plants and transports it by pipeline to storage sites located several miles under the North Sea.
The consultation process will provide further information on the potential economic, social and environmental effects, as well as outlining the key structural elements of NZT and the role CCUS can play in the UK's clean recovery after the coronavirus crisis.
Tees Valley Mayor Ben Houchen said: "Only weeks after securing the landmark deal to bring the former SSI steelworks site back into public ownership and put its future into the hands of Teessiders, we are now entering the second phase of consultation for Net Zero Teesside, to develop the UK's first decarbonised industrial cluster.
"It's incredibly exciting for our region to be working with the world's biggest energy companies to accelerate this ground-breaking project and to develop our ambitions for Teesside, Darlington and Hartlepool as pioneers in clean energy.
"We are primed to benefit from almost half a billion pounds as a result of this investment and with my plan for jobs we will create good quality, well paid local jobs for local workers. As we look to rebalance our economy following the coronavirus pandemic, clean energy projects such as these will be crucial in our recovery."
During the construction phase, the project could support up to 5,500 direct jobs and a direct annual gross benefit of up to £450million for the region.
Cllr Mary Lanigan, Leader of Redcar & Cleveland Borough Council and Combined Authority Cabinet Lead for Inward Investment added: "Plans to create the UK's first decarbonised cluster here has the potential to create thousands of jobs and huge investment in this area. Once operational, the cluster could capture 10 million tonnes of carbon dioxide emissions each year, equivalent to the energy use of up to 3 million homes, which means the project will not only help to regenerate and revitalise the local area, but it could play a major role in decarbonising the UK economy and support the Council's climate emergency ambitions.
"I encourage our residents to view the proposals and provide their feedback so we can maximise the benefits of the scheme for now and for generations to come."
The Stage 2 Consultation will run to mid-September 2020. More details on how to share feedback and contact the project team can be found here https://www.netzeroteesside.com/consultation/