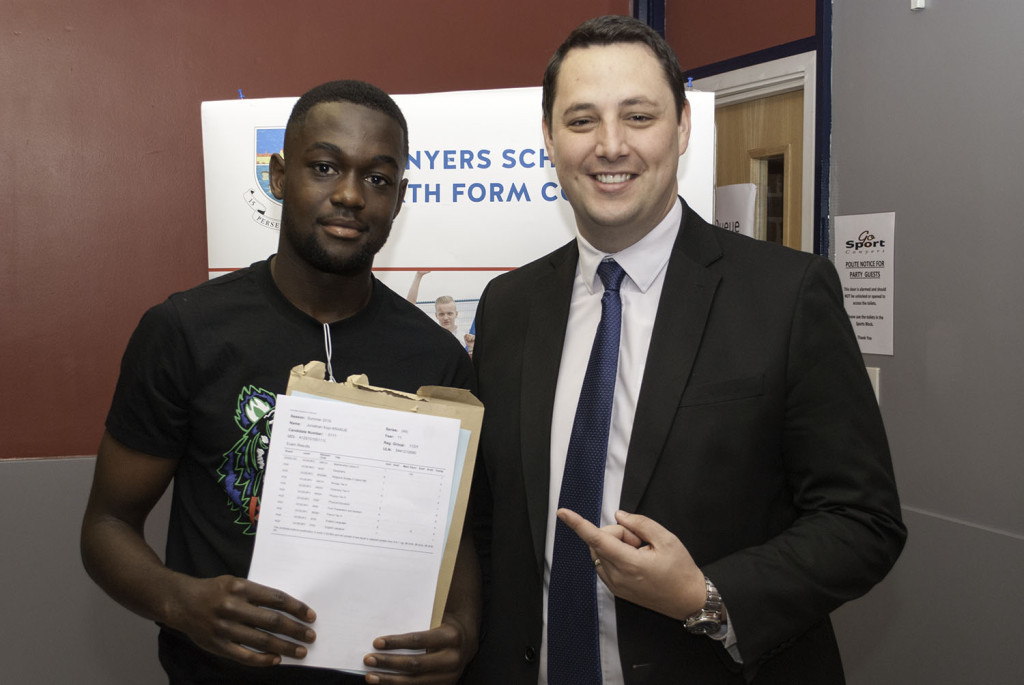 Tees Valley Mayor Ben Houchen has today (August 22) visited his old school, Conyers in Yarm, to join in the celebrations of students' GCSE success.
Around 6,940 young people in the Tees Valley learned their grades today, marking the culmination of years of study.
At Conyers, 80% of all grades were at grade 4 or above and more than a quarter of all grades awarded were top grades, with a total of 25 students achieving eight or more 7/8/9/A/A* grades.
The Mayor was on hand at the school to offer his congratulations to the students and discuss their future career opportunities and further plans for study. He was a student at Conyers between 1998 and 2005, when he left to read for a Law degree at Northumbria University.
Success stories include Eve Hewett, who achieved straight grade 8/9s in all 11 of her subjects. This success was even more impressive as Eve's string of top grades included two Modern Foreign Languages, with her GCSE French completed two years early and for which she achieved full marks.
Other outstanding individuals this year included Zainab Al-Amiri, Charlotte Evans, Mia Jones, Shona Stevenson and Ben Thomason who achieved five or more top grade 9s.
They were joined by Andrea Aucott, Joshua Bailey, Luke Ball, Amelia Balmer, Lauren Bell, Ellen Campbell, Nathan Campling, Megan Donovan, Harrison George, Daisy Mellis, Emily Rose, Abbie Rowntree, Joel Sharples, Benjamin Sibson,  Grace Smith, Millie Taylor, and Eden Tyerman, all of whom achieved 8 or more grades 7/8/9/A/A*.
Conyers student and Stockton South Youth MP Tanisha Roy achieved six top grades at 7/8/9 and will continue studying at Conyers Sixth Form in September.
Fellow student and talented footballer Jonathan Krakue (pictured above), who also achieved an impressive ten GCSEs at grade 6/7, has secured himself a scholarship at Sunderland Football Club.
Mayor Houchen said: "I'd like to give a massive congratulations to everyone receiving their GCSE results today.
"From Merlin Flex in Hartlepool to Animmersion is Middlesbrough, we have a host of amazing companies doing incredible things, these companies are crying out for homegrown talent. These results, and those from schools across the Tees Valley, show that we have the talent they want. Alongside this, we're securing the investments that are creating the good-quality, well-paid jobs for our talented young people.
"I also want to express my gratitude to the parents, teachers and other staff in our schools for their dedication and commitment in preparing and supporting students for these challenging exams."
Conyers head teacher Louise Spellman said: "These wonderful results contain many stories of individual success and students achieving excellence.
"We are delighted for the many students who have achieved their target grades and look forward to welcoming many back into Sixth Form in September. I would like to thank the staff who have shown dedication and who have worked tirelessly to ensure every student had the best chance of success. Parents also deserve thanks from our students for their patience and support."