Message from the Mayor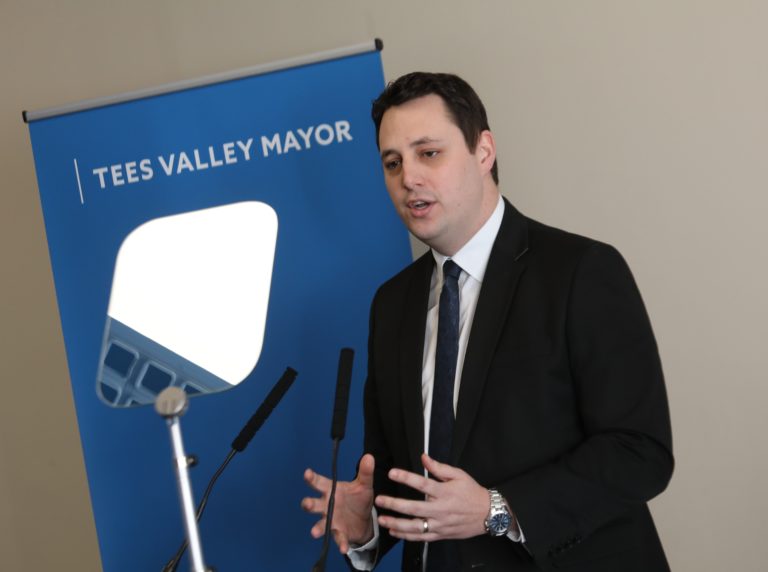 This summer we made huge strides with two of our biggest projects – demolition work at Teesworks ramped up even further and Teesside Airport's summer schedule of flights continued to take off following the relaxing of coronavirus restrictions.
Over at Teesworks, in August I pledged that every structure at the former steelworks site will be down within a year, and work has taken place right across key areas of the site so we meet that target. With Net Zero Teesside and GE Renewable Energy's projects continuing at a pace, we need to make sure the site is investor-ready as early as possible for these schemes, and to attract more investment as the UK's largest freeport. Only by going further faster can we help create those good-quality, well-paid jobs we're bringing to the site.
We've had fantastic feedback from passengers for our Airport redevelopment too, and we're not stopping there, with work to begin in a matter of weeks on a new landside bar and viewing platform to make our terminal even better. Despite the pandemic, the airport has secured even more routes for next year following a surge in bookings from local people for summer's breaks.
And our region has had yet another vote of confidence from the Government as it confirmed even more civil servants would be joining the Treasury at its Northern Economic Campus. The Department for Business, Department for International Trade, Department for Levelling Up and Office of National Statistics are all set to have a base in Darlington, meaning our region will help in setting the agenda where others are just following. It also shows local people they don't have to leave the area to get a good-quality civil service career.
Making sure our transport connections to and from London on the East Coast Main Line, as well as those around the region, are vital for Government's plans and to give local people the reliable, fast and frequent transport links they deserve. That's why I was delighted that plans for Darlington station have been approved and we agreed the funding to finally make Billingham Station disabled friendly.
On top of that, you'll be able to read below how we've been supporting apprenticeships and the result of investing in our fantastic biosciences businesses like FUJIFILM Diosynth Biotechnologies. We've also welcomed a new LEP Chair in Siobhan McArdle, alongside other new dedicated LEP Members and she has provided us with an update too.
People think of summer as a time of holidays, relaxing in the sun and chilling out but, as you can see, we've been working tirelessly to drive forward the projects that will make a real difference to people's lives.
Airport Secures New Routes As Terminal Redevelopment Continues
As the successful summer flight schedule continued to take off at Teesside Airport, July, August and September saw a number of new announcements and the launch of our drive to promote the benefits of travelling from Teesside for businesses.
As part of this initiative, Teesside Airport is offering business passengers 10% off car parking and executive lounges by using the code business21 on our website here: https://bit.ly/3kirrW7
We would appreciate your support in distributing this message to your business networks as people begin to swap some video calls for face-to-face meetings once again.
Elsewhere, plans have been unveiled for the airport's new landside Sky Bar and viewing platform by Darlington-based architects Corstorphine & Wright. The new at-height lookout spot will replace the old outdoor viewing platform located at ground level by the side of the terminal. The new development will be located across two floors, with a welcome space on the ground floor and bar and platform above, occupying space currently used as offices. Work is set to begin before the end of the year and is due to be complete in time for next year's summer season.
Work has got under way on the airport's new duty-free shop. The store will be operated by World Duty Free, with Darlington's Wharton Construction, which carried out work on the airport's Goosepool Bar and shop, leading the work supported by local firms Powercare Electrical Services and RTS Joinery.
TUI, the UK's biggest holiday firm, has announced plans for a second summer 2022 service to Antalya on Turkey's south-west coast. This joins their previously revealed route to Palma, Majorca, and will run from May to September next year. Closer to home, domestic airline Loganair is adding both Dublin and Southampton to its summer services from May next year. Six flights per week will serve Southampton, with four per week between May and October travelling to Dublin.
The airport has also been announced as one of the UK's first pilot areas to test hydrogen vehicles as part of the region's status as the country's Hydrogen Transport Hub. The £2.5million project will see the airport, among other key organisations, have commercial and support vehicles fitted with 100% hydrogen, zero-emission engines. A ground support tug, forklift and two other vehicles will soon be in operation to demonstrate how hydrogen fuelled vehicles can be quick and easy to drive and refuel.
Demolition Work Begins on Redcar Blast Furnace as Work on New Quay Gets Under Way
The past three months has seen demolition work continue to ramp up across the Teesworks site, with work also beginning on the new South Bank Quay.
In August, the demolition of the historic Redcar Blast Furnace was kick-started, with the dismantling of the main charge conveyor. Work began to clear every one of the 11 major plants across the site, with the first chimney stacks pulled down at the Basic Oxygen Steelmaking (BOS) Plant, and clearance taking place at the South Bank and Redcar Coke Overs and Sinter Plant. In September, following an independent report that highlighted "ongoing and irreversible" damage to the structure, the Dorman Long Tower was also demolished.
On top of the work to make the site ready for investors, planning permission was approved for GE Renewable Energy's mammoth offshore wind turbine blade factory. Redcar and Cleveland Borough Council gave the green light to the 76,200sq m facilities, with building work due to begin later in 2021 for a 2023 completion. The facility is one of the first major schemes to come to Teesworks and up to 2,250 jobs will be created to support its construction, with up to 750 direct jobs and 1,500 indirect jobs delivered when operational.
To support this, and turn Teesworks into the UK's premiere offshore wind destination, UK contractor Graham is now on the site to develop its new South Bank Quay. The 1.2km, heavy-lift quay will provide direct access to the biggest wind farms around the world, including Dogger Bank, whose turbine blades will be supplied by GE Renewable Energy. The quay also forms part of the wider 4.5million sq ft of advanced manufacturing and industrial space on 450 acres next to the wharf.
The site has also seen a number of high-profile VIP visits recently. Secretary of State for Levelling Up, Housing and Communities, Michael Gove MP, made his first visit since his appointment to the Tees Valley and was welcomed on the Teesworks site to see how work was progressing. Earlier in July bp's global CEO, Bernard Looney, also took a trip to the site to discuss the multibillion-pound clean energy projects in the region. This includes Net Zero Teesside Power, the carbon capture, utilisation and storage power plant, and H2 Teesside, the energy firm's plan to create the UK's first 'blue' hydrogen production facility.
Stations On Track For Vital Upgrades
The £105milllion transformation of Darlington railway station has taken another step forward as plans for its eastern gateway development were approved.
In June the formal planning applications for the eastern and western elements of the scheme were submitted to Darlington Borough Council, with the scheme aiming to improve the frequency and reliability of services as well as connectivity along the East Coast Main Line and across the region.
Planning bosses have now approved the east side of the development, including a new entrance, station building, concourse and upgrade to its transport links.
The major redevelopment will create three new platforms on the east side of the existing station to accommodate current and future services, along with a footbridge linking the new platforms and building parts of the existing station and tie it more closely to the town centre. A separate decision on the western element is due in the coming weeks, with the project due to be complete in 2025.
A £1million investment has also been signed off by the Tees Valley Mayor and Combined Authority to significantly improve disability access at Billingham railway station. The £3.59milllion project will see the station's existing footbridge replaced with one serviced by lifts, providing step-free access for pedestrians. Work will begin in March 2022 and is expected to be complete by November.
Chancellor Spends First Day at Darlington's Economic Campus
Chancellor Rishi Sunak has visited Darlington for his first day of work at the Treasury's Northern Economic Campus, as further Government departments committed to basing hundreds of civil servants in the town.
As part of the Government's Levelling Up agenda, the town will soon be home to hundreds of workers from key departments, with the Treasury set to launch a recruitment drive in the coming days.
Ahead of the new campus being built, the Chancellor joined colleagues from the Department for Education, who are already based in the town at Bishopsgate House and Feethams House.
It has recently been announced hundreds of staff from the Department for Business, Energy and Industrial Strategy, the Department for International Trade, the Department for Levelling Up, Housing and Communities and the Office of National Statistics will also be coming to the town, further cementing its link with Westminster and putting obs up for grabs for local people.
FUJIFILM Diosynth Biocampus Throws Open its Doors
FUJILFILM Diosynth Biotechnologies has officially launched its new Billingham BioCampus, following £3.6million of support.
The world leader in biotechnology development and manufacturing supports partners in the biopharmaceutical industry with the development and production of their biologics, vaccines and gene therapies. It most recently hit headlines as it is due to begin manufacturing Novavax coronavirus vaccine at its Billingham base.
Phase 1 of the recently completed BioCampus development includes a 42,000sq ft purpose-built office accommodation and visitor centre, with land also made ready for subsequent construction phases, expected to include additional research and development laboratories and new manufacturing facilities.
The investment has safeguarded 150 jobs which will move into the new premises and has helped create 22 new roles and unlock the potential for future growth and job creation. Along with £2.6million of funding for FUJIFILM, a further £1million was also invested in the surrounding road infrastructure to help deliver the project.
More than 1,600 Apprentices Created After £3.7million Investment
The Tees Valley Mayor and Combined Authority have helped support the creation of more than one new apprentice every working day since April 2016, figures have revealed.
A total of 1,662 roles across 1,411 employers have been opened up after businesses took advantage of more than £3.7million worth of funding over the past five years.
Small and medium-sized companies from all different types of sectors have benefitted from the grants, from law firms and logistics operators to electricians, plumbers and telecoms firms.
Currently, businesses can take on apprentices through the Apprenticeship Support Grant. This enables small and medium-sized businesses to create opportunities in sectors facing high demand and growth with support of up to £3,000 per apprentice.
The figures came as the first success of the Skills for Growth programme was also announced. Since its launch in February, the £3million project – a joint initiative with Teesside University International Business School and part-funded by the European Social Fund – has engaged with 120 businesses to help upskill 134 employees.
To find out how SMEs could benefit from the Apprentice Support Grant, visit www.teesvalley-ca.gov.uk/apprenticeships
For more on the Tees Valley Collaborative Skills Development Partnership (Skills for Growth) project, visit www.TeesValleyBusiness.com
Momentum Builds For Teesside Freeport
The momentum surrounding Teesside Freeport continues to gather pace ahead of our official launch later this year.
A number of local businesses and organisations are actively supporting the Freeport development to ensure that we are ready to capitalise on the investment, innovation and regeneration that it will drive.
Teesside Freeport will act as a catalyst to the development of a Net Zero Cluster for the North-East of England. The proposed Freeport and Cluster has identified three sectors of focus that our region already has an advantage in, and which will benefit from Freeport powers. These are Clean Energy (including Assembly and Manufacture of Offshore Wind), Chemicals and Materials Processing, and Advanced Manufacturing Lifesciences.
The proposed Net Zero Cluster will not only target zero carbon-emitting inward investment but, through innovation support at the Freeport, will encourage collaborative working and knowledge sharing in clean technology with our supply chain.
Teesside Freeport offers a great opportunity to level up and promote our region on a global stage and we look forward to its official launch later this year.
New LEP Chair and Members Appointed After Recruitment Drive
At the beginning of July, following a recruitment drive that was extended due to the COVID-19 pandemic, I took my place as the chair of the Tees Valley Local Enterprise Partnership, alongside many other new faces.
I had worked with the previous LEP Chair, Paul Booth, as part of the organisation for the past four years and am delighted to be picking up where he left off to help promote further growth across the Tees Valley. Given the many fantastic projects taking place here right now, there has never been a more exciting time to be part of a team so focused on creating opportunities across the region.
As well as my appointment, a number of others have joined the LEP, ensuring it is more diverse, inclusive and evenly gender split than ever before. I'd like to welcome Jen Vanderhoven (National Horizons Centre, Teesside University); Andrew Fulton (ICL Boulby); Steph Carter-Smith (CityFibre); Stephen Gill (Cummins); Matthew Ord (LV Shipping & Transport); Joanna Wake (Baltic Training) and Yasmin Khan (HALO Project) and Graeme Mallows (Net Zero Teesside), as well as Observer Member Jane Reynolds from the Tees Valley Business Club. They will all be playing a great part in delivering change by contributing their depth of expertise in their own field whilst also ensuring the voice of the business community is heard and so informs in a meaningful way everything the Mayor and the Combined Authority is doing.
I'd also like to thank returning members Mark South (Double Eleven); Annabel Turpin (Stockton ARC) and Brenda McLeish (Learning Curve Group) for their continued support.
Of course, our immediate priority is to make sure our businesses – of all sizes – get all of the support they need as we recover our economy post COVID-19, but beyond this there are also still many more fantastic opportunities taking place in the region right now. From our clean energy projects to Teesworks and the Teesside Freeport, our airport and the many other initiatives taking place in across our five boroughs, there's a lot to be excited about.
Having grown up in Teesside but worked all over the world I'm very much looking forward to working with all the LEP members, new and old, to help transform the Tees Valley and promote positive change for our local people and businesses.
Siobhan McArdle
Tees Valley Local Enterprise Partnership Chair
Policy Update
The Spending Review 2021 launched on 7th September 2021 and will conclude on 27th October 2021 alongside an Autumn Budget, setting out the government's spending priorities for the Parliament. The three-year review will set UK government departments' resource and capital budgets for 2022-23 to 2024-25 and the devolved administrations' block grants for the same period.
HM Treasury welcomed representations, to be considered as part of decisions which will be taken as part of the Budget and Spending Review, from stakeholders up to 30th September 2021. The Combined Authority submitted a representation with headline proposals centred around supporting the growth of nationally and regionally significant clusters, including clean energy, bio-science and digital; Connectivity; and Innovation.
On 4 October the Chancellor confirmed a £500million extension of the government's Plan for Jobs support, including extending the Kickstart Scheme for young people and helping unemployed people over the age of 50 back into work. The plans also include measures for supporting those on the lowest wages to progress in their careers and an extension to some schemes.
Ministerial Appointments
Details of the Ministerial appointments announced by the Prime Minister on 15th September 2021 can be found here.
Levelling-Up Agenda
The Ministry of Housing, Communities and Local Government has become the Department for Levelling Up, Housing and Communities as the government delivers on its central mission to level up every part of the UK.
As previously mentioned in this newsletter, Tees Valley Mayor Ben Houchen joined the Secretary of State for Levelling Up, Housing and Communities Michael Gove MP on a tour of the region in his first visit since taking on the role following the Cabinet reshuffle.